Description of Application:
Inspection of plastic quart-sized motor oil bottles for streak defects. The goal of this application is to image the bottles clearly to determine if there are any streak defects.
Product Images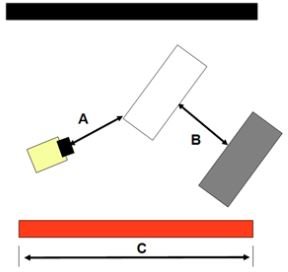 Inspection Setup:
Illumination: L300-850-W [300mm Linear Light 850nm IR – "Connect-A-Light"
Light @ same angle as bottle
Filter: BP850
(A) Lens Working Distance: 12″
(B) Light Working Distance: 7″
(C) Horizontal Field of View: 8″
Evaluation
Infrared lighting lends itself to be very useful when looking at different plastic applications. By lighting the bottle with an intense IR light the streaks show up. A good bottle appears very white almost washed out as a streaked bottle is much darker. The trick is to illuminate the bottle without creating too much hot spotting. In this application a linear light was used with good results. Increased results could be obtained by utilizing a high powered back light to create more even lighting.
Application Images