Description of Application:
Customer requests inspection of part to ensure the black tabs are bent over. Customer also requests inspecting for the brass clips to be present.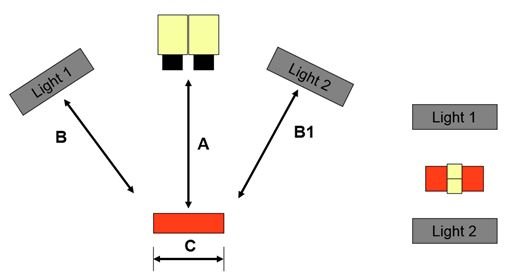 Inspection Setup:
Vision system: (2) Cognex Insight 7020 Vision Systems
Illumination: (2) L300-625-W Linear Lights
Lens: (1) 12.5mm fujinon lens, (1) 25mm fujinon Lens
Filter: (2) BP635-25.5 Filters
Extras: W/ None
(A) Lens Working Dist: ~ (Camera 1 – 66.0") (Camera 2 – 66.0")
(B) Light Working Dist: ~ (Light 1 – 66.0"@ 17.5 Degrees) (Light 2 – 66.0"@ 17.5 Degrees)
(C) Horizontal FOV: ~ (Camera 1 – 23.0") (Camera 2 – 11.5")
Evaluation
This evaluation is broken down into two different areas (1) Inspection part to ensure the black tabs are bent in place (2) Inspection to ensure the brass clips are present. Pattern tools, blob tools and brightness tools are used to complete the inspection. The angle of the part is critical for the application. The part must be presented perfectly flat to the camera. This allows us to create the needed reflections utilized for the inspection. Two wide angle Red linear lights are needed to evenly illuminate the part. Red is needed to create contrast between the black tabs and the black background. Two camera are needed for the inspection. This is due to more resolution needed to pick out the black tabs. We also need to utilize two different camera setups. One camera is optimized for the brass clips and the other is optimized for the Black tabs.
Evaluation conducted by McNaughton-McKay Electric Company.
Application Images
Application Images (Camera 1 Brass Clips)
Application Images (Camera 2 Black Tabs)