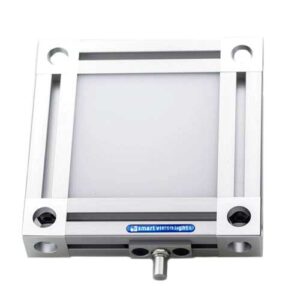 Product information including data sheets has been verified as accurate at the time of completion. It is subject to change without notification.
MOBL Maximum Output Backlight
Description
The MOBL Backlight Series is designed for maximum output. The series works in continuous operation mode or can operate with either an NPN or PNP trigger signal when using on/off input mode. The MOBL Backlight runs on an industry-standard 24VDC. The 1-10VDC analog control line gives the user total control over intensity. Proper heat dissipation is achieved using the side extrusion and the heat sink installed on the bottom of the light. The 45 mm extrusion makes mounting the light easy when using drop-in T-nuts. The MOBL Backlight has a built-in driver. No external driver is required. This product comes in the following sizes: 150 mm x 150 mm, 300 mm x 150 mm, and 300 mm x 300 mm.
The Right Light for Your Application
Smart Vision Lights provides a 45-day Consignment Program that is used for testing light(s) on vision applications. We also offer application and lighting evaluations. Contact us to speak with one of our lighting specialists.
Product Details
Illumination Type: Backlight
IP Rating: IP50
Mode: Continuous