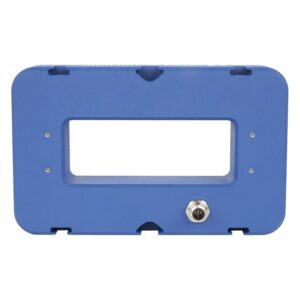 Product information including data sheets has been verified as accurate at the time of completion. It is subject to change without notification.
Product Highlights
Multi-Drive™ provides the ability for either continuous or OverDrive™ strobe modes
Compatible with many machine vision cameras
Direct connect and control through camera's trigger output
Mount camera directly to the light
JWL225-MD
Description
The JWL225-MD, part of the Camera to Light (CTL) Series, is an intense light source meant to provide external illumination for machine vision cameras or smart cameras where the built-in illumination is not enough. This light can be connected directly to camera housings through optional mounting plates to illuminate areas larger than what is normally covered by the camera's internal light source. The JWL225-MD is compatible with many machine vision cameras and can be directly connected and controlled through a camera's trigger output.
Product Details
IP Rating: IP65
Min Working Distance: 300 mm
Max Working Distance: 1500 mm
Illumination Type: Bright Field, Direct Lighting
Mode: Multi-Drive™
SmartVisionLink: Compatible