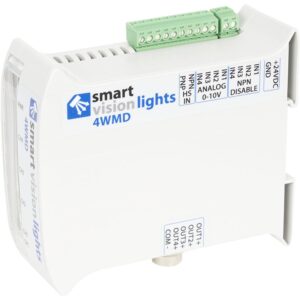 Product information including data sheets has been verified as accurate at the time of completion. It is subject to change without notification.
Product Highlights
Drive lights with multiple wavelengths, including standard colors, UV, NIR, and SWIR
Up to four individual channels that can be controlled independently of one another
5-pin M12 quick connect (reserve key)
Built-in Multi-DriveTM allows light to work in continuous operation or OverDriveTM strobe mode
Separate control for each channel to tune intensity for either continuous operation or OverDriveTM strobe mode
4WMD Multi-Wavelength External Multi-Drive™
Description
The 4WMD is a four-channel external driver developed for multi-wavelength lights. The 4WMD permits up to four individual wavelengths to be controlled independently of each other. This external driver includes Multi-Drive™, which allows a single channel to drive LEDs in continuous operation or OverDrive™ strobe mode separate from the other channels. For quick and easy adjustments, each output channel has its own tuning control located on the front of the driver. Wavelength tuning can be controlled for continuous operation using the analog input channels as well.
The 4WMD can be used with any combination of up to four LED wavelengths, including white, red, blue, green, UV, IR, and SWIR. Additional wavelength options are available.
The Right Light for Your Application
Smart Vision Lights provides a 45-day Consignment Program that is used for testing light(s) on vision applications. We also offer application and lighting evaluations. Contact us to speak with one of our lighting specialists.
Product Details